Ever tried Purple Sweet Potato?
by Dinethri Ramasundara APD AN

Purple Sweet potato : Sri Lankan Style

Purple sweet potato is readily eaten in Sri Lanka as a breakfast option. Usually this root vegetable is served with an Onion and Chilli salsa (we call it "sambol") and fresh shredded coconut. It's a great way to increase your daily veg intake in diet. According to the Australian Guide to Healthy Eating ½ of a medium sweet potato is considered one standard serve of vegetable. Sweet potatoes are low in GI, fat, kilojoules and a great source of fibre, Vitamin A and potassium.

Even though it's yummy I only make this version from time to time because it uses coconut and salt. In saying that I love eating it boiled by itself as a breaky option/snack in my regular diet.

Ingredients: serves 2
• 1 medium purple sweet potato
• Fresh coconut to serve

For salsa/ sambol:
• ½ red onion chopped
• 1 Thai green chilli/ 1-2 green chilli (you can add more if you like it HOT) chopped
• Lime/lemon juice (freshly squeezed)
• Coconut vinegar

To prepare:
1. Wash the sweet potato thoroughly. Cut it roughly and add to boiling water. While that is getting cooked well start making the salsa/sambol.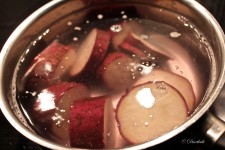 2. Use a motor and a pestle ground green chilli till mushy. Add the red onion, a sprinkle of salt, few drops of freshly squeezed lemon and ground the mixture till mushy. Add ¼ tsp of vinegar at the end. Make sure you test the sambol and add enough lemon and vinegar to suit your palate.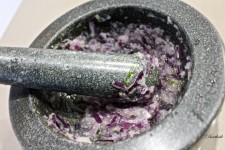 3. Enjoy the prepared sweet potato with some sambol and fresh coconut. I served this dish with fresh papaya juice.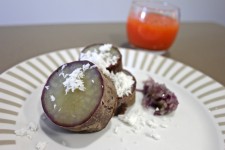 How to eat it: Peel off the skin of the sweet potato (it should come off easily!) mix a bit of sweet potato with coconut and the sambol in each bite.