Chia.. The Aztec grain
by Dinethri Ramasundara APD AN




Chia is a member of mint family Salvia hispanica L native to central and southern America. It is said that Chia seeds have been a core inclusion in general diet since Aztec times and has recently gained momentum as a super grain over its unique nutritional profile.

Chia seeds are high in dietary fibre, good source of protein and an excellent source of Omega 3 fatty acids (your healthy/good fats!). These healthy fats are essential for good health and can only be obtained through diet (1). It plays a main role in heart, brain health and contributes to your blood lipid cycle (that's right it helps to manage bad cholesterol levels in your body) (3). Omega 3 fats are of 2 main types; EPA, DHA* are primarily found in fish sources such as salmon, sardines and tuna while ALA* is found in plant sources such as nuts and seeds. Chia seeds are known to have the highest content of ALA of all known vegetable sources, which makes it a great food source for vegetarians to gain healthy fats in their diet (2).

Composition of Chia seed is as follows; protein (15–25%), fats (30–33%), carbohydrates (26–41%), high dietary fiber (18–30%), ash (4-5%), minerals, vitamins, and dry matter (90–93%) (1). In addition these seeds are high in antioxidants, which helps your body to prevent or delay cell damage (4). It is also a naturally gluten free food product making it suitable for people suffering with Coeliac disease and gluten sensitivity.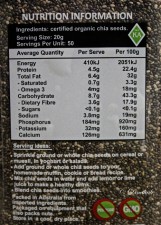 Chia seeds are usually black or white in colour and the nutrition profile does not change from one colour to another. It can be added to baked goods, breads, porridges, smoothies, and can be ground and added to water or milk.

I love a spoonful of Chia on my porridge or on Weetbix for added crunch and nutrition in the morning. However, I have a soft spot for my sweets.. so here is a recipe for a low fat chia pudding.

Chia pudding

Ingredients: (serves 4)
•250g Plain low fat custard
•5 buttons of dark chocolate
•20g Chia seeds
•Silvered almonds to sprinkle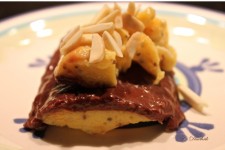 Method
1.To make chocolate custard: use 125g custard and add melted dark chocolate buttons, mix well.
2.To make chia custard: use the latter 125g custard and chia seeds mix well.
3.In a glass or bowl alternate chia custard and chocolate custard till all custard is used up
4.Refrigerated for few hours till set. Sprinkle with silvered almonds before serving.
5.Enjoy ☺

For this recipe I made my custard using powder. Alternatively you may use a store bought low fat custard.

* Eicosapentaenoic acid (EPA),Docosahexaenoic acid (DHA) and α-linolenic acid (ALA)

References
1. http://www.ncbi.nlm.nih.gov/pmc/articles/PMC3518271/pdf/JBB2012-171956.pdf
2. http://onlinelibrary.wiley.com/doi/10.1111/1750-3841.12444/abstract
3. http://jn.nutrition.org/content/142/3/587S.full
4. http://www.betterhealth.vic.gov.au/bhcv2/bhcarticles.nsf/pages/Antioxidants